Master The Skills Of Ground Grappling And Self-Defense In Our Brazilian Jiu-Jitsu Classes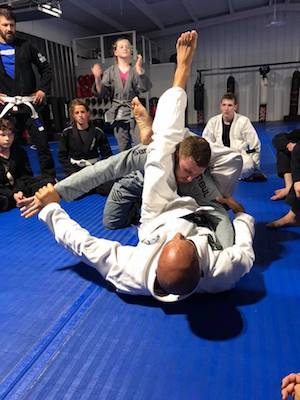 At Epic Fight & Fitness Academy, it doesn't matter if you're looking for self-defense skills, total-body fitness, or sport-style competition skills. We train men and women with a wide range of goals in mind and we work hard to help them all find success.
Our Brazilian Jiu-Jitsu classes include full-gi instruction in the skills of ground grappling. We help you learn how to gain leverage over an opponent and come out on top in any situation.
Fill out the short form on your screen to learn more or come see us in Parker County to try it out for yourself!
Why Is Brazilian Jiu-Jitsu Right For You?
This ground-based self-defense discipline is built on the idea that a smaller, weaker fighter can overcome a larger opponent by relying on superior leverage and technique.
At Epic Fight & Fitness Academy, we offer fundamental instruction for complete beginners and high-level coaching for experienced fighters. We'll help you move with more efficiency and effectiveness than ever before.
Our BJJ classes here in Parker County can help you learn:
Effective takedowns and transitions from any position
Ground control strategies like locks, chokes, and holds
Defensive maneuvers to help you regain momentum
Submission skills that can help you come out on top
And In Every Class, We're Offering You A Total-Body Workout
Our focus in this program is on helping you learn the ins and outs of ground grappling. But our Brazilian Jiu-Jitsu classes are also designed to help you challenge your body like never before.
This system includes high-energy exercises that will keep your muscles guessing week after week. We'll push you to improve your efficiency and effectiveness, all while upping the intensity of each workout.
You won't even realize how hard you're working.
We're helping men and women of all fitness levels:
Burn fat and build lean muscle tone
Develop incredible endurance and stamina
Enjoy healthy, sustainable weight loss
Walk away from each session with an incredible sense of accomplishment
Check It Out Today! We're Offering The Best Brazilian Jiu-Jitsu In All Of Parker County!
If you're looking for a new way to train, come see us at Epic Fight & Fitness Academy today. We're helping complete beginners, experienced athletes, and everyone in between find success.
Our Brazilian Jiu-Jitsu classes are great for men and women across Weatherford and Parker County.
Just fill out the short form on your screen to learn more!